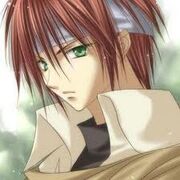 Raphael is the father of
Lyra
, and also one of the main villans in the series
Crimson Twilight
.
Early Life
Edit
Raphael was a member of the queens court, untill he went rogue, when he did this, his wife and child stood against him. He always wanted the child to follow and possibly love him, which she did neither of.
Ad blocker interference detected!
Wikia is a free-to-use site that makes money from advertising. We have a modified experience for viewers using ad blockers

Wikia is not accessible if you've made further modifications. Remove the custom ad blocker rule(s) and the page will load as expected.